Great graphic designers have qualities that set them apart from the competition and stand out in the design industry. Not only do they have a knack for the visual arts, they are also passionate about what they do. Their passion and enthusiasm for their work are what drive them to create remarkable designs.
While these are the leading traits of most successful designers, it is still necessary to look for key qualities that will distinguish a legitimately talented graphic designer. Of course, any designer worth their salt will tell you how great their designs are. However, what you will need is someone who can take your brand to the next level.
Six Essential Traits of a Great Graphic Designer
Innovative
Great graphic designers don't remain stagnant. They stay on top of current graphic design trends and techniques in order to create cutting-edge designs. They educate themselves about emerging technologies to ensure that their work is consistently fresh and exciting. Further, they may ask your advice from time to time and seek an in-depth understanding of your campaign to deliver results that you truly need.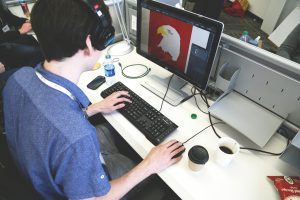 Consistent
It takes more than an artistic eye to produce impressive designs. Whether you need a logo, flyers for your upcoming event, or a simple blog banner, it is important that all your designs are aligned with your brand's identity. A graphic designer whose kind of design style displays your brand's vision and language is what you need.
Resilient
Graphic designers with years of experience under their belt are far more resilient than the budding ones. They understand even with their outstanding portfolio and canny design sense they are not exempted from criticism. They know that you probably have your own preferences and tastes that may be in contrast to theirs. But rather than leave your project halfway done because of a negative comment, they will be happy to consider alternative opinions.  In fact, whether a feedback is constructive or not, they see it as an opportunity to improve themselves.
Perfectionist
Talented graphic designers are never truly satisfied. Their attention to detail allows them to notice even minuscule design flaws. They are constantly looking for ways to improve existing designs – whether this project has been passed onto them or they started it from scratch. They take every aspect of the design processs seriously, partially because they want to impress you but mainly because they are perfectionist by nature.
Adaptable 
One of the most important qualities of a designer is adaptability. With new technologies constantly evolving, designers have to be willing to try new things and incorporate new ideas to suit your needs. They should adapt to your process and techniques and initiate to learn them without much supervision from you. They should think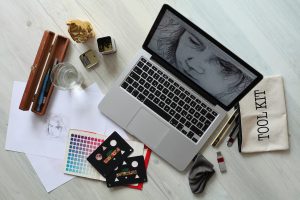 outside the box and challenge their own capabilities to produce the most creative output possible.
Easy to Communicate with
Communication is so important when it comes to the design process. A great graphic designer will be able to communicate with you, listen to your wants and needs, and understand what you are looking for in a design. Designing is more than having an artistic flair. It is also about navigating briefs and brand guidelines with different clients. You will want to have a designer who can have a conversation with you, visualize what you are saying, and turn it into reality without too much effort.
Whether you are looking to hire a freelancer or work with an agency, the designer should have the ability to articulate the elements of your project, communicate ideas coherently and set clear expectations. Most importantly, they can exceed your expectations and deliver amazing results.
Looking for someone you can count on? Let's help you find the right designer for your business. Alternatively, we can set up a team of digital marketing experts to help get your business out in the online world. Contact us today.