Without a doubt, working remotely presents tons of opportunities. In the previous blog, we shared the advantages of hiring virtual employees and how it can significantly improve a growing business. While it can beneficial for your business in many ways you might not expect, it also comes with a few challenges, particularly at your workers' end.
This begs the question, how can employers motivate and boost morale when the team is all remote employees? Whether big or small, there are virtual employee team building activities for every size.
Here are a few simple yet powerful techniques to boost team morale:
Build time for small talks
Working virtually could mean staying in a room all by oneself all day long. There are no cubicle neighbors to make small talk with. No one to chit-chat during lunch breaks. Although this type of conversation is on a personal level, it helps employees relate to each other.
When holding group meetings, it would be fun to start each meeting talking about personal happenings. Ask your team about their weekend activities or have them send in recent photos. Perhaps, use a video conferencing channel to make the discussion much more enjoyable by putting faces to names.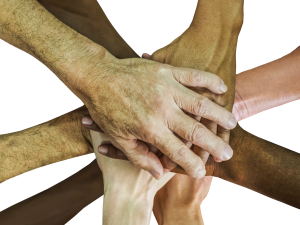 You could also build a dynamic online community on softwares like Slack and Cliq. These digital workspaces offer incredible features for a modern, streamlined communication. From file sharing to video calls and nonstop chats, these channels keep your team in the loop.
Play online games
Who doesn't love games? Virtual employee team building games build a rapport that can be beneficial later on when there is a group task to be completed. The Zoho's Advanced Gamification, for example, allows you to create contests to promote healthy competition between your sales team while giving you real time insights on your sales data. The more games won, the more sales you make.
A Friday fun day is also another good way to get the team hyped up before the weekend and look forward to the next working day. Your tech geeks might just love it!
Email icebreaker questions
Another engaging virtual employee team building activity can take place through your inboxes. Send out an icebreaker question to the team every now and then. Ask them to 'reply all' so everyone gets to read their response. This helps your employees interact and learn about each other a little more.
The questions don't necessarily have to be work related. They can be just about anything. Try asking questions related to the upcoming holiday celebrated across the world. Valentine's Day, Thanksgiving and Christmas are just a few events that make everyone excited.
Recognize outstanding efforts
It isn't uncommon for employees to desire recognition for their hard work. If you have not yet set a recognition program in place, a good way to start is by rewarding your staff with things they can use. Ask them what they need and reward them accordingly.
Finding them relevant training courses is also a smart move. This will not only make them feel valued, it will also help in their professional advancement. Take note, a reward becomes most effective when it is instantaneous, applicable, specific, and public.
Virtual Employee Team Building Activities Takeaway:
It is only essential to know that not everyone is built to work virtually. Some work well in a remote team whereas others find it too difficult to work in a home setting. We hope these virtual employee team building sessions build a feasible relationship between you and your staff – personally and professionally.
Is building a virtual workforce suitable for your business? We would love to get you started. Get in touch with us today.